Invitación a Charla sobre Protocolo IPV6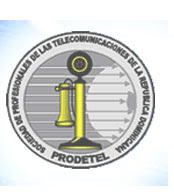 Prodetel invita a todos sus relacionados a participar de esta charla introductoria al Protocolo IPV6, que sera implantado a nivel global en el futuro inmediato. Este reemplaza el protocolo en uso en la actualidad que es el IPV4 cuya capacidad de direcciones esta completamente agotada, quedando solo pocas direcciones en manos de algunas entidades regionales.

Los factores principales que han afectado el agotamiento de las direcciones actuales son:
El extraordinario crecimiento que ha tenido el acceso inalámbrico al Internet fruto de los nuevos aparatos celulares inteligentes, lo que realmente ha popularizado el Internet.
El desarrollo creciente de enlaces entre maquinas vía el Internet. Ya no solo tenemos contadores eléctricos inteligentes que reportan a los sistemas de facturación, sino también autos que permanecen conectados con despachos centralizados, y hasta refrigeradores que generan ordenes de compra a los supermercados para reponer su inventario.
Esta charla introductoria sera celebrada el proximo 23 de noviembre en el salon multiuso del Indotel a las 6:30PM, sera dictada por nuestra colaboradora Wanda Perez, y a la misma estan todos invitados. Para estos fines, Prodetel tiene un acuerdo con LANIC (Latin American and Caribbeaan Internet Adresses and Registry).
Para mas información pueden visitar la página de
LANIC
.
Junta Directiva